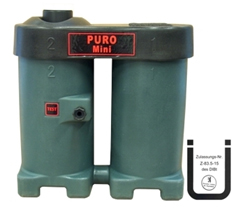 Compressed air condensate separator
The PURO MINI is designed to separate oil from condensate that is extracted from compressed air systems. The PURO MINI condensate separator covers compressor capacities up to 3.5 m³/min.
Product Description
The separation method of the PURO MINI is the same as its larger family members and therefor offers true condensate separation values for the smaller compressor applications.