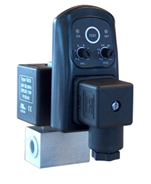 Timer controlled condensate drain
The OPTIMUM-S is the high pressure option of the OPTIMUM timer controlled condensate drain. The OPTIMUM-S is offered with the widest range of technical options for compressed air systems up to 400 BAR. The unit is suitable for ALL compressed air system components (after coolers, dryers, filters, pressure vessels, and piping), regardless of their size or capacity.
Product Description
Simply adjust the interval and discharge times to suit the particular compressed air system requiring stainless steel valves. The valve body is typically produced in brass up to 80 BAR. All pressures above 80 BAR are typically produced in stainless steel.