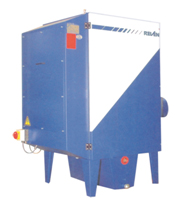 The Reven Ultra Cleaner offers up to seven filtration stages in one device. Aerosols and suspended particles are separated by the pantented RXZ-High-Performance filter system. With the help of additional filter elements smallest aerosols are agglomerated, so that a separation of smallest droplets is possible.
Product Description
All filters can be cleaned and re-used, no throwaway filters
The fan is speed-controlled, so you can controll the air flow volumes individually. The air flow volumes and the intervals between servicings are indicated by an LCD-Display.
The device has a housing of solid sheet steel, free of torsions. Its base is formed as an oil- and water resistant sump. The handling can be chosen either right or left.