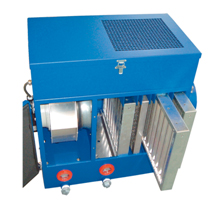 Effective mechanical separation of oils, emulsions and other mists containing liquid particles (aerosols). The basic element is composed of patented special profile sections arranged in two separable plate levels, spacers and a patented separable frame.
Product Description
Self-cleaning effect through special profile sections, smooth surfaces and suitable layout. The separating rates are to be proven, see following page.
All basic elements can be cleaned and reused, no throwaway filters! The flame arresting capability has been tested successfully by the German TUV in compliance with the directive UL 1046 of the American Underwriters LaboratoriesÒ.