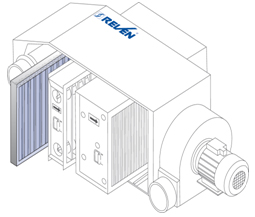 By using the upgrade kit you will receive a separation efficiency up to 96% in the particle range of 1 micron and larger. Thus, the particles are arrested by the RXZ-High-Performance filter before potentaially overloading the electrostatic separator.
Product Description
The worldwide patented basic element of the RXZ-High-Performance filters consists of a pure mechanical separator system. As the base-plate is constructed in a very solid way it will last a life-time.
The separation plate of Upgrade Kit 1 can be integrated in an already existing housing. Upgrade Kit2 consists of a complete unit with housing that can be installed in an existing extract duct of an electrostatic separator.
Particles in air polluted by aerosol, mist, or steam (saturated) are affected by gravity. These particles, suspended in the air are delivered to the separator by the fan.