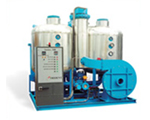 Absorption Air Dryers – Heated
Trident makes a range of adsorption type compressed air dryers which are regenerated by heat. The adsorbants activated alumina or molecular sieve regenerates on heating. These type of Dryers are energy efficient for dew points below -20 deg C for large air flows. There are several ways heating the bed of desiccant. The most common along with Trident series are as below :
Product Description
Trident Blower Heat Reactivated Air Dryers offers a very good dew point depending on the requirement. These dryers are useful for instrumentation air meeting the quality requirement of ISA S7.34. Available for any higher capacity from 500 cfm to 4000 cfm.